Basic Life Support (BLS) for Healthcare Providers is an American Heart Association (AHA) course that covers how to recognize several life-threatening emergencies, how to administer CPR, AED use, choking relief and bag-mask use. Students will practice their skills while the instructor provides feedback and helps guide the students' practical abilities.
This course is for healthcare professionals including nurses, EMTs, dental/doctor's offices and many other healthcare professions. This course is not limited to only healthcare professionals.
Students receive a two-year AHA certification card immediately after successfully completing the course.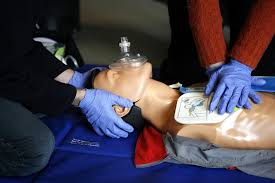 Learn. Act. Save.
Basic Life Support (BLS) for Healthcare Providers